If you're planning to go on a trip to the southern side of the Philippines, then you must visit Davao City and its surrounding regions. Davao City has a lot to offer on your list – with its pristine beaches, attractive parks, museums, exceptional local cuisines, and outdoor adventures; you will surely love to stay there for a while.
Make the most of the city's cultural legacy, savor family delicacies, or fall in love with wildlife sanctuaries you can find. So, keep on track, grab your pen as you list down, and discover the 20 best things to do in Davao City!
1. Visit Eden Nature Park
The very first thing you would love to do is to visit Eden Nature Park. If you want to reconnect with nature for a while, you can enjoy a landscape walk or forest getaway, where you'll be surrounded by pine trees that merge harmoniously with their surroundings.
This place also offers a lot of choices for recreational activities such as Sky riding, sky swing, sky cycle, sky wheel, horseback riding, and guided shuttle tour.
Aside from that, you get to explore different spots such as the Amphitheater, which is a reminder of the ancient Roman civilization and is a good venue for big celebrations; the Bird Walk which brings you soothing sounds of birds; Deer Park with deer of many sizes; and the Lola's Garden, Flower Garden and Bamboo Maze which give you a glimpse of astounding flora.
2. Discover the culture at Davao Museum
Seeking through the cultural heritage of Davao is also a great adventure, and you can be educated about that if you go inside the Davao Museum.
This museum is filled with local culture, handicrafts, and history from Davao's earliest settlers to the present day. You also have to see a wide range of native tribes that have made their home in the area and remain today.
Consider a timeline of historical events in the zone, get a taste of how indigenous materials like bamboo and rattan are used in a Bagobo home replica, and enjoy other key cultural relics at this cultural center.
In addition to hosting regular picture exhibits, the Davao Museum also organizes talks, conferences, and seminars.
3. See the Philippine Eagle Center
The Philippine Eagle Center's primary mission is to save the critically endangered Philippine Eagle as well as other birds of prey through conservation breeding.
This eight-hectare plot of rainforest is now home to the world's only captive group of Philippine eagles, which may be found at the Philippine Eagle Center.
Most tourists are unable to visit the breeding centers since they are off-limits to them. Still, the rest of the place is open to the public and serves as an engaging introduction to the avian biodiversity native to the Philippines.
In here, you will get to watch eagles attack a piece of raw meat with their powerful claws and beak, see the eagles soaring all about the property with enormous wingspans, and get some personalized shots while you're here!
Also, there are various endangered animal species to look at, including monkeys, giant snakes, and different types of rare plants.
4. Rest on Samal Island
Who doesn't love going to the beach?
If you long for a getaway where you can enjoy the coastal view, you might want to be here on Samal Island.
In Davao del Norte, Mindanao, Samal Island is the greatest resort city in the Philippines. The number of resort properties is more than 30, and they have more than 1,000 rooms.
The island is a well-known tourist attraction for those who travel to the city of Mindanao via ferry. It is endowed with beautiful beaches and fantastic snorkeling and diving opportunities in addition to both budget and luxury accommodations that make an unforgettable tropical holiday.
5. Hike to Mount Apo
One of the best things to enjoy in Davao is to go on an adventure to Mount Apo. I assure you that you'll have a blast if you hike on this mountain. However, the trial is a tough one, so you have to prepare all the way.
Also known as the "King of Philippine Peaks," Mount Apo is one of the highest mountains in South East Asia. The peak of the mountain is 10,311 feet (3,144 meters) above sea level. At the summit, a 500-meter-wide crater lake formed by volcanic activity is visible.
On an added note, rubber plantations, a 150-meter-tall waterfall named Tudaya Falls, and wild boar and deer call the mountain home.
Commonly, March, April, and October are the months when skilled climbers can summit the mountain on a two-day trek organized by several tour groups in the vicinity.
6. Relax at Tamayong Prayer Mountain (The Garden of Eden Restored)
Pause, think, and enjoy life at one of the complex's several gazebos. The Tamayong Prayer Mountain is situated on the foothills of Mount Apo.
While going across the mountains' numerous walking pathways, take in the lovely landscaping reminiscent of European gardens, and unwind and contemplate amid the Tamayong Prayer Mountain's magnificent views.
The Roxas Avenue Night Market is a great place to savor the many different cuisines that Davao City has to offer. The numerous stalls at this well-known night market are home to many different fresh and cooked fish, vegetables, meat, and other food.
Spend some quality time with your buddies over a steaming bowl of soup or a barbecued brisket sandwich. You will enjoy this place because the food is affordable, and the atmosphere is lively and energetic. Tables are kept close together to create a more intimate atmosphere.
However, because there isn't enough space for washing dishes, tables are wrapped in plastic, and customers can dine with their fingers covered in thin plastic gloves – now you get to taste what Filipino customs be like.
Visiting this location is highly recommended. A protected habitat for a variety of kinds of butterflies, flowers, and plants, and exotic species of insects and animals is situated in the Davao Butterfly House.
To allow the beneficial butterflies to aid in pollination and bring in local and foreign tourists, they have allowed these butterflies to stay in Davao City.
When it is not too hot, and the butterflies are more active, so visiting the region in the morning is excellent. This is when exquisite insects engage in moths, insects, and romance.
Many species seek shade and refuge from the heat of the day during the hottest hours of the day. It's a terrific opportunity to get to know them and take good photos.
9. Enjoy the landscape of Jack's Ridge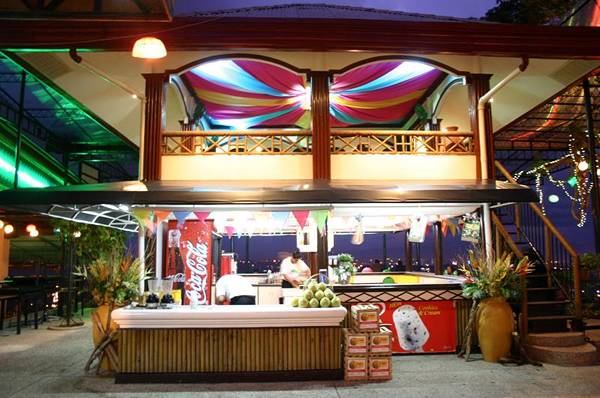 To get a comprehensive eagle's eye perspective of Davao City, head to Jack's Ridge. Aside from the breathtaking vistas, there are two eateries on-site, particularly Karlo's Gourmet, which provides coffee and pastries, and Taklobo, which serves Filipino cuisine in an open-air dining area with a spectacular view of the city.
The history of the Philippines includes Jack's Ridge. During World War II, it was used as a headquarters for Japanese evacuees. Then, 50 years later, Jack's Ridge is brimming with recollections of the years that have passed.
The Japanese pocket mark-built caves in the area, and projectiles and other war materials are occasionally discovered in the rich ground.
10. Have fun at Kadayawan Festival
You are lucky if, at the time you are in Davao, you get to experience the Kadayawan Festival.
Kadayawan is a Davao Festival that is celebrated every third week of August. It serves as a thank-you celebration for the blessings of nature, the wealth of culture, and the bounties of harvest, as well as the peace of existence.
Additionally, it honors and commemorates the lumads, a cultural group of indigenous people who live in the city.
Numerous activities are conducted every year in Kadayawan Festival, such as street-dancing competitions, beauty pageants, floral parade, agri-trade fair (where local products are sold), games, and creative dances by the Dabaweños – so you can enjoy watching and joining these events if you happen to experience the said festival.
11. Drink Civet Coffee
Civet Coffee is famous for a reason: it is one of the most unusual and expensive coffees globally, not only because of its taste but also because of the way it is made.
Coffee brewed exclusively by a civet, a feral cat-like species native to the Philippines, particularly in Davao, is known as Civet Coffee. It consumes the luscious coffee cherries before excreting the beans.
Such an organic procedure imparts a more subtle and smoother flavor to the coffee beans while eliminating any bitterness, making it a favorite among coffee enthusiasts. Purchasing it in Europe or America, on the other hand, might be extremely expensive!
Purchasing it directly from the source is the least priced alternative. Mt. Apo is home to a cafe where tourists can purchase a cup of coffee and a bag of beans from this world-class coffee roaster.
The inherent richness of its dark chocolate-like aroma is so strong that it tastes like a toasted feather of hazelnuts when you eat it with your fingers. Many individuals believe that Civet Coffee is an aphrodisiac, although it may be clinically insufficient. During your visit to Davao, you must try this drink at least once.
12. Unwind in Dahican Beach
Dahican Beach, with its 7 kilometers of lovely sand and blue water, is without a doubt the most stunning beach on the mainland. You can rent a beach chair for the day or take your robe and spend as much time as you like in the sun.
If you're looking for a fun and exciting beach vacation, there are cabins along the beach where you can rent boogie boards and surfboards. Several of the resorts here offer island hopping cruises departing from Dahican Beach.
Put a tent, and for a modest price, you can pitch it on the beach overnight. Sleep to the sound of breaking waves, wake up to the fresh morning air, and then go for a swim!
13. Visit the Crocodile Park
This venue demonstrates the country's "state of the art" crocodile farming, complete with cutting-edge equipment and facilities.
Thousands of crocodiles call this park home, including freshwater and saltwater reptiles that are reared and birthed on-site. Tourists can have a walk along with the incubator room, which houses hundreds of crocodile eggs.
Apart from crocodiles, the Davao Crocodile Park is home to a variety of birds, monkeys, snakes, and other reptile species. Additionally, they offer lectures, educational experiences and raise awareness about wildlife protection.
14. Tour at the People's Park
People's Park is a lovely spot to visit where you may enjoy fresh air, appreciate your surroundings, contemplate the significance of some interesting art, and just be one with nature.
Feed the pigeons in the park, work out with a lap around the variously colored tiled paths, or even take a Zumba class, where you will be joined by many locals in the area.
15. Davao River Water Rafting
In Davao, there is possibly the best year-round white river rafting experience in Asia. A whole day on the river will help you stimulate all of your senses, and it will provide you with many content to post on Facebook, YouTube, and the like, causing you to want to invite your friends to travel with you on your next adventure in Davao.
16. Stroll at Chinatown
The Mindanao China Town is home to a diverse mix of Chinese restaurants, shops, businesses, and shopping malls. In fact, many of the businesses in this area are owned and operated by Chinese Filipinos who are proud of their Chinese heritage.
The distinctive brilliant red Chinese archway with a tiled roof will welcome you into Chinatown, and you will notice as if you entered another universe—or at least it will give that impression.
You can visit the Long Hua Temple, which is home to Kung Fu monks, as well as the Mindanao Taoist Temple, which has stunning Chinese architecture.
Don't forget to pick up some electronics and cosmetics in a mall on your way to your next destination.
17. Buy treats at Magsaysay Park
In addition to being known for its long row of fruit stands, which primarily sell Durian, Magsaysay Park is an excellent spot to practice your negotiating abilities.
Take a break at the Fishcado, an open-air seafood restaurant that serves dishes made with fresh seafood procured from the local market. Tuna and swordfish dishes are particularly popular in Davao, so keep an eye out for these.
Increasing numbers of food carts and stalls will begin to arrive as the sun sets, creating an unofficial night market where you may enjoy a variety of tiny goodies! Therefore, it is more than just a location to relax on a park bench and watch the world go by; it is a destination in and of itself.
18. Pose at the Upside-Down Museum
Want to turn your world upside down? You may want to make many fun-filled memories as you strike different poses in this place!
19. Destress at Pawsome Dog Cafe
This is an ideal place for de-stressing with man's best friends – dogs! This is a concept cafe for dog lovers where customers may enjoy their cup of coffee while enjoying pet interaction with 30 different dogs in another room.
However, watching via a glass window with your drink lets you avoid the overwhelming fragrance of well-groomed and loving dogs (if you just want to look at them).
As simple as staring into an aquarium (but with dogs), the location is popular among dog lovers and millennials.
20. Jump in Hyperbola Ball Pit Café
Who says diving into a ball pit is only for kids? Awaken your kiddo heart in this Hyperbola Ball Pit Café, and you might want to plunge in forever. You can dive into thousands of calming balls and feel like you are swimming all the way.
The café also offers delicious desserts and meals. So, what are you waiting for?
Conclusion
As true as it may seem, Davao City has an abundance of great things to offer – include the Durian fruit in which the city is widely known for. Davao City's varied excursions allow tourists to appreciate the city's beauty and the city's rich history. So, do something different by stepping out of your comfort zone and putting Davao on your travel list. Stay safe!