The Philippines, without a doubt, is a famous destination for beach trips. People from all over the world visit to experience the majesty of these beaches. From top tourist attractions to secret sanctuaries, the country has them all! Today, we're going to share the best white sand beaches in the Philippines. Be ready for this one visual treat of a blog post! You'll definitely crave going to even just one of these after reading!
1. Seven Commandos Beach
First on this list of best white sand beaches in the Philippines is the Seven Commandos Beach. This is located in El Nido, Palawan. Moreover, this beach is actually below the dramatic limestone cliffs that are the famous landmarks of El Nido. At the same time, the beach has many coconut trees lining its borders that'll make you feel like you're in a sanctuary.
The beach got its name from a story telling that there are seven soldiers who used to live there. Additionally, their names are said to be inscribed in some rocks on the beach. On the other hand, the said rocks are unable to be traced at the moment.
Furthermore, its turquoise calm waters is really enticing. You can swim as well as snorkel here. If you get tired, you can always take a break and have a coconut sip. Definitely do this while having your tan under the sun! You can rest assure that you're having one of the best paradise experiences ever! Lastly, do take note that this beach is only accessible by boat.
2. Nacpan Beach
Second on this list of best white sand beaches in the Philippines is the Nacpan Beach. This is another one of El Nido's most beautiful beaches.
The beach is four kilometers long with coconut palms around. Moreover, its white sand is the perfect addition to its clear aqua water. The contrast is so beautiful that the swimming experience you'll have here is going to be majestic!
At the same time, take note that its part of the Twin Beaches. The other half is the Calitang Beach. When you reach the southern end of the Nacpan Beach, you'll see the two of them merge. Furthermore, at the same merging area is also a small fishing village. If you want to see the two beaches at once from above, go to a green hill that'll give you a breathtaking view. If you forget your camera for whatever reason, you'll definitely regret it!
3. Las Cabanas Beach
El Nido's another source of pride is the Las Cabanas Beach. The said beach got its name because of the Las Cabanas Resort. The latter is indeed one of the oldest resorts in El Nido.
Its beautiful white sand attracts both locals and tourists. It's definitely the perfect destination for swimming, sun-bathing, and just relaxing in the company of nature. Moreover, there's a zip-line between the coast and the nearby island that you may want to try. At the same time, there are many resto-bars around that's why cravings are just a walk away!
Lastly, Las Cabanas Beach is mostly known for the amazing sunset views that it offers to watchers. It's because it's facing the west. So if you want to experience the arguably best sunsets you can watch in your lifetime, hangout in the Las Cabanas Beach!
4. Long Beach
This is the longest white beach in the Philippines with its 14 kilometer shoreline that goes uninterrupted. Moreover, this is actually three times longer than the famous Boracay's white beach. It's also located in San Vicente, Palawan.
Long Beach is your low-key beach destination. Meaning that it's not as commercialized as the other beaches in Palawan and in the entire Philippines in general. On the other hand, this is actually one of its charm! It's the kind of beach you go to when you just want to completely relax and let yourself go. At the same time, the local communities are so close that you'll get to interact with them. Take note that this beach spans the coast of Barangays New Agutaya, San isidro, and Alimangoan. It means that you'll certainly meet a lot of locals and that screams fun!
5. Malcapuya Island
Another one on this list of best white sand beaches in the Philippines is the Malcapuya Island. This long and wide beach is located in Coron, Palawan. Moreover, this is also called as the Ultimate Virgin Beach for its gorgeous white sand.  It's also often described as almost powdery and can really rival Boracay's white sand beach. The crystal clear water and the coral reefs there, which surely serve as home for an enormous marine biodiversity, are indeed an eye-treat. For this reason, people who love to snorkel sees this island as the perfect destination. At the same time, Malcapuya Island has a secluded feeling that makes it more special.
When you go there, you can also be in awe of the nature-made rock formations around that make the island unique. These are also giving the island its picturesque view. Furthermore, there are also beautiful rocky cliffs where you can surely wander around when you want to explore more. On the other hand, if you want to take a break from the swimming, snorkeling, and wandering, you can rest in the available tents and hammocks around.
6. Saud Beach
This one is the pride of Pagudpud in Ilocos Norte. Actually, many are saying that it's the latter's best beach! Aside from its wonderful fine white sand, Saud Beach has clear blue waters that are equally splendid! There are also a wide variety of corals as well as marine life which offer snorkelers the best experience ever!
Moreover, this 2 kilometer beach has its charm coming from the fact that it isn't that commercialized. Indeed, it's still a hidden treasure as compared to the other beaches in Pagudpud. At the same time, that's sort of being maintained for the reason that people who go there like that about the beach. This isolation that its guests have when visiting is certainly one of its attractions. Total peace and solemnity while getting your tan; who doesn't like that, right? Furthermore, when the large Pacific swells roll into the Saud Beach, it becomes a really good place for surfing!
7. Alona Beach
Another one on this list of best white sand beaches in the Philippines is the Alona Beach. It's said that the beach got its name from Alona Alegre who was a 70s actress in the Philippines. There was a time before when the actress shoot a film in the area. During that time, this beach in Bohol was still an almost barren place without sign of any commercialism. Moreover, Alegre was said to be really kind and sweet towards the locals there. For this reason, they decided to name the beach in honor of her.
Alona Beach is a 1.5 kilometer of white sand. Additionally, it has rock walls on both of its ends. There are also many rocky cliffs around where you can wander in enjoyment and fun! At the same time, this beach isn't just good for swimming. People will enjoy snorkeling, scuba diving, as well as fishing here. It's because Alona Beach has an amazing marine ecosystem that's protected. Access to them are limited, so that the marine life and their beauty will be preserved.
8. Naked Island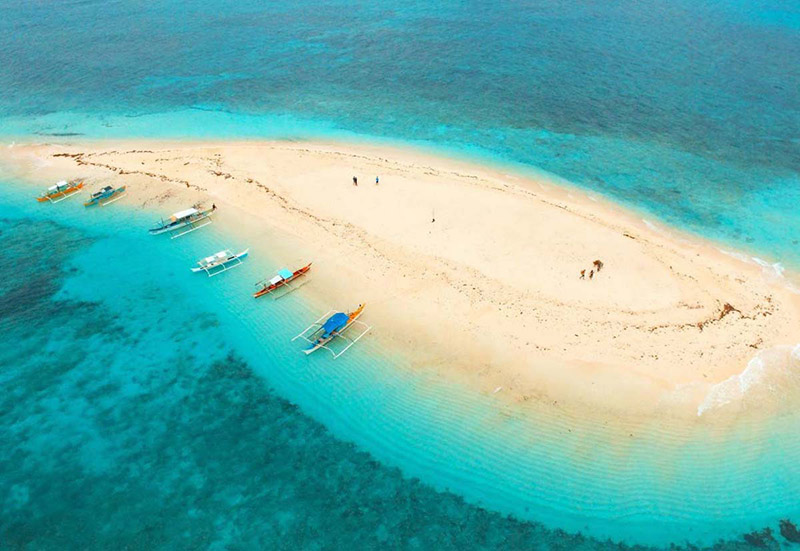 This one takes beach trips to the next level because of its most famous quality: it's naked! Yes, this one has no shade at all which makes it really wide open! Indeed, the beach experience you'll have in this island located in Siargao isn't like any other.
Naked Island is visible from the shores of General Luna, together with the Dako Island and Guyam Island. Take note that the Dako Island is the largest of them while the Guyam Island is the smallest. Moreover, Naked Island boasts its fine white sand that's almost powdery as well as its cool and crystal-clear waters.
If you happen to be in Siargao which is the Philippines' Surfing Capital, absolutely head it to this island. From the beach you're surfing on, go here to enjoy the calmness around. Experience basking in the cool waters without anything that's obstructing your view of the skies. You'll definitely feel like you're infinite just like what the beach feels like with the charming vulnerability it gives.
Just take note that during high tides, some parts of this beach sinks a few feet below the sea level. For this reason, schedule your trip or getaway to this beach when it's low tide.
9. Kalanggaman Island
Another one on this list of best white sand beaches in the Philippines is the Kalanggaman Island. This is located in Palompon, Leyte. Moreover, it got its name from the fact that it is shaped like a bird when you see it from above. At the same time, the local word there for bird is "langgam," hence the name.
Kalanggaman Island is truly one of the Philippines' secret beauties. It isn't as commercialized as the others, but it's the island's charm just like with the other secret beaches mentioned above. Moreover, this island boasts its white powdery sand as well as long sandbars that stretch on both of its sides. Additionally, its crystal-clear turquoise waters and palm trees around add up to its attractions. The beach here has a wide diversity of corals as well as marine life too. For this reason, visitors will also certainly have fun swimming, snorkeling, and scuba diving here.
10. Boracay Island
Last but definitely not the least of these fine white beaches is the Boracay Island. Boracay will always be in the frontline of the Philippines' main and overall attractions. This island has indeed gain its reputation as the country's top white sand beach since it's the most commercialized. Ever since, tourists from all over the world flock here to enjoy the most popular white sand beach of the Pearl of the Orient.
Boracay Island is located in Western Visayas. This island is really small as it's only 7 kilometers long and 500 meters wide. That's why it's definitely amazing how it became the country's top white sand beach. It just really means that Boracay has a beauty in it which makes it irresistible to both locals and tourists visitors.
In Boracay, you can do a lot of nautical activities such as swimming, surfing, kiteboarding, kayaking, diving, and snorkeling. Additionally, you can also go island-hopping and since the island has many establishments around, you can definitely dine and party hard too!
Take note that when you go to this island, everything you need is just somewhere around. There are many options for beach resorts, hotels, as well as hostels. Also, there are many cafes and restaurants that'll really make it hard for you to decide where to dine. Just remember that this kind of confusion is good. Having such many options is actually exciting! Moreover, there are many shops where you can find a tremendous amount of souvenirs. Those are made by the locals with love!
CHECK OUT: Best of Filipino Cuisine: Top 14 Pinoy Dishes for Dinner
Wrapping Up
The best white sand beaches in the Philippines are certainly a contender for the best in the world. They're truly magnificent, especially on how they contrast against the clear turquoise waters. Just looking at them seems like you're under an enchantment or spell that's beyond this world! What more if you're actually swimming and basking in one of those, right? Moreover, they truly show why the country is known to have nature's very best. Ticking all of these beaches will absolutely be an amazing bragging right!
If you love this blog post, leave a comment down below. At the same time, hit us in the comments too if you think that another beach should be on this list. Have a great day!