A city hidden in plain sight around 60 kilometers from Manila is undervalued. Most tourists don't think to stop in Tagaytay for a few days between flights, so take advantage of the unspoiled culture and affordable local pricing while it's still a relatively unknown stop on the western route.
When you think of a Filipino city, Tagaytay isn't what comes to mind. Tagaytay is a city surrounded by nature, with public transit and the odd traffic congestion. Outdoor parks, cafés, and even retail malls take use of the beautiful landscape by erecting structures surrounding undulating hills and green slopes, giving the impression that you are still part of nature.
The magnificent Ta'al Volcano, a natural oddity that will leave you scratching your head, is Tagaytay Come's major attraction.
---
Let's have a view of the great things to do in Tagaytay:
1. Taal Lake and Volcano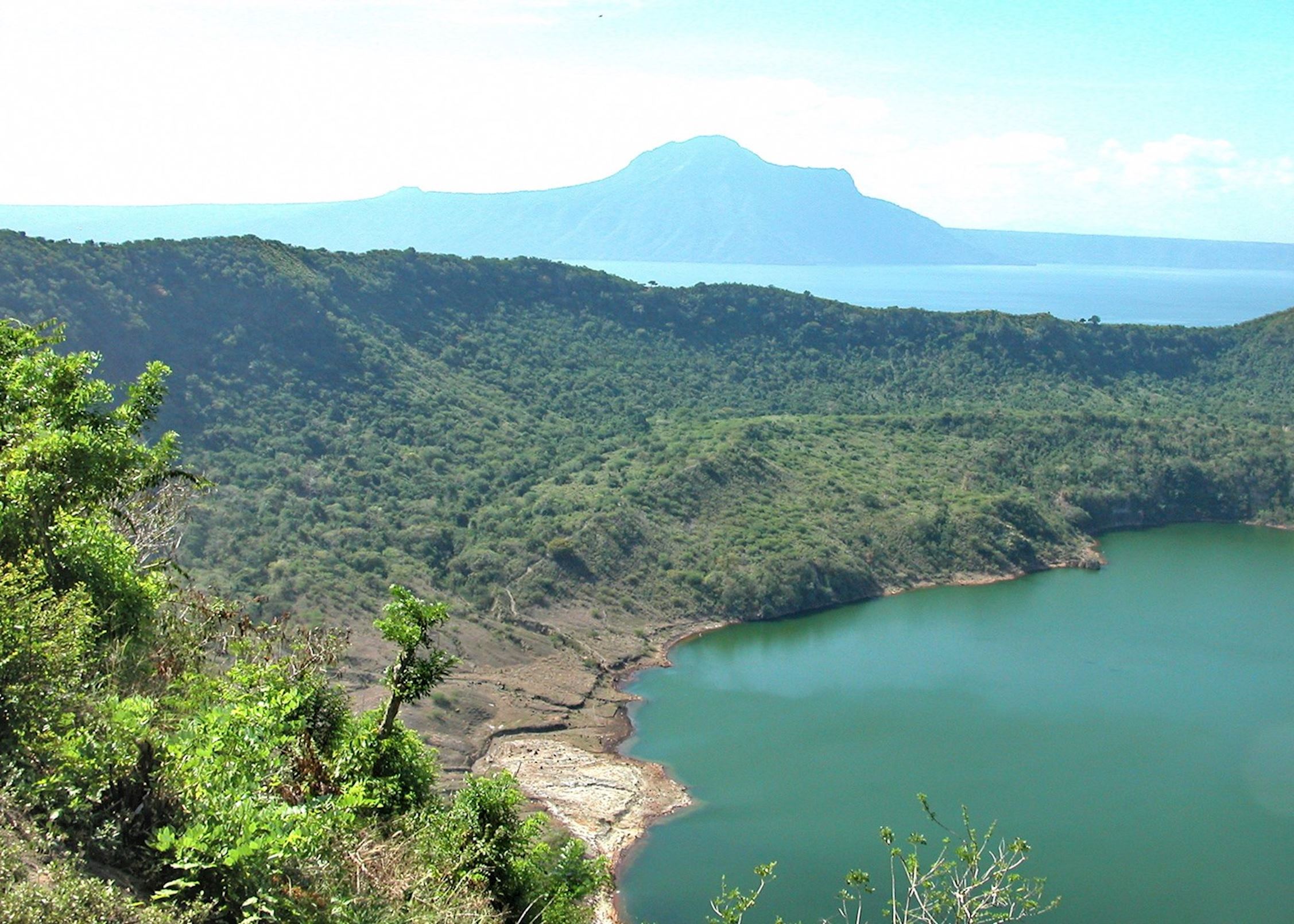 SOURCE: Audley Travel
Tagaytay City's pride and pleasure is the Taal Volcano and Lake. It is the Philippines' second most active volcano, with 33 eruptions. A large cratered mouth and steep slopes that pour down into the Lake are its distinguishing features. Though, if you look near, you'll see that there's another Lake hidden inside the cratered opening. Another island may be found inside the Lake.
Did you hear what I said? A volcano sits above a lake, with a lake inside the volcano and an island within that Lake. It's understandable if you're still perplexed. To see for yourself, you'll have to go.
---
2. Tierra de Maria, Our Lady of Manaoag 
SOURCE: Deal Grocer
If you haven't guessed, the Philippines is a very religious nation with great efforts to design, build, and install some of Asia's most beautiful holy monuments.
You don't have to be religious to be fascinated by the 'Our Lady of Manaoag.' Filipinos go to this 50-foot figure of Mary, the Mother of God, to worship and snap pictures for Facebook. Next to the statue is a tiny church temple with a flea market collection of Jesus statues on the cross, images of the prophet, and sparkling Christmas lights strung throughout.
---
3. Breakfast at Antonio's
SOURCE: Antonio's Group of Restaurants
Stay for the vistas, but come for the cuisine. Antonio's Breakfast is a two-in-one must-see attraction in Tagaytay City.
While they provide fantastic breakfast choices like handmade pork sausage and honey-infused Golden Waffles, the sandwiches are our favorite. You may order masterpieces like the Ham Grilled Smoked with Cheddar Cheese and Gruyere, which will make you believe you've died and gone to paradise, using high-quality deli meat and gourmet cheeses.
You're sitting next to a big window with a view of the Ta'al Volcano and Lake, which links the whole thing together.
---
4. Picnic Grove
SOURCE: Wikimedia Commons
Continue from the 'Our Lady of Manaoag' to the adjacent Picnic Grove. The Grove is a lovely and relaxing spot for families and couples to have a picnic (obviously), fly a kite, or get some practice. From the peak of the grassy hill, it seems like if you rolled down, you would fly into the sea and land among the outlying islands. The vistas are indescribably beautiful.
Ziplining, swimming, Horseback riding, shopping, and cable car rides are just a few of the activities available. It's simple to lose an entire day here. Restaurants and resto-shops are also open to save you fuel.
---
5. Cafe Veranda Cultural Show
SOURCE: TREXIE REYNA
Dinner and a performance…What more could you ask for?
Swing by or remain at the Ta'al Vista hotel for a four-course Filipino dinner and a performance with great Filipinas dancing in traditional attire. The service is excellent, with little wait time for a table and employees who are incredibly attentive to your needs.
There is a lunch show and an evening performance; they each do the same three sets. Thus none is better than the other. You may book a table closer to the stage if you phone beforehand.
---
6. Sky Ranch
SOURCE: the Philippines
Who doesn't like a trip to the amusement park? Return to your childhood at Sky Ranch! There are many (well-maintained) rides to get your adrenaline racing.
The Sky Eye Ferris Wheel carries you on a 63-meter-high viewing tour; the Sky Cruiser is a high-altitude pedal cycle that takes riders on an aerial track for the viewpoint of Ta'al Lake and Volcano; the zipline flings you down a 300-meter-long line high above the earth, and that's only the beginning.
There are many rides for children, including little pedal boats in pools and a giant carousel, which will make their eyes shine with pleasure.
---
7. Museo Orlina
SOURCE: Viator
When in Tagaytay City, pay a visit to this music center, theater, art gallery, and art exhibition center.
Museo Orlina presents a variety of events with various themes throughout the year. Sometimes you'll come across a music festival with a complete lineup of well-known local performers, and other times you'll come across booths selling street art.
---
8. Puzzle Mansion Bed & Breakfast
SOURCE: Miked's Travel PH
The Puzzle Mansion Bed & Breakfast is a beautiful location to stay and/or visit if you have children.
Puzzle Mansion received an award in 2012 for having the world's most extensive collection of jigsaw puzzles. The vast array of configured puzzles is self-evidently remarkable. You'll find recognizable characters like Winnie the Pooh and Piglet among 3D puzzles of terrifying dinosaurs, which are genuine works of art.
Guests may also utilize the sizeable blue pool in the rear.
---
9. Peoples Park In The Sky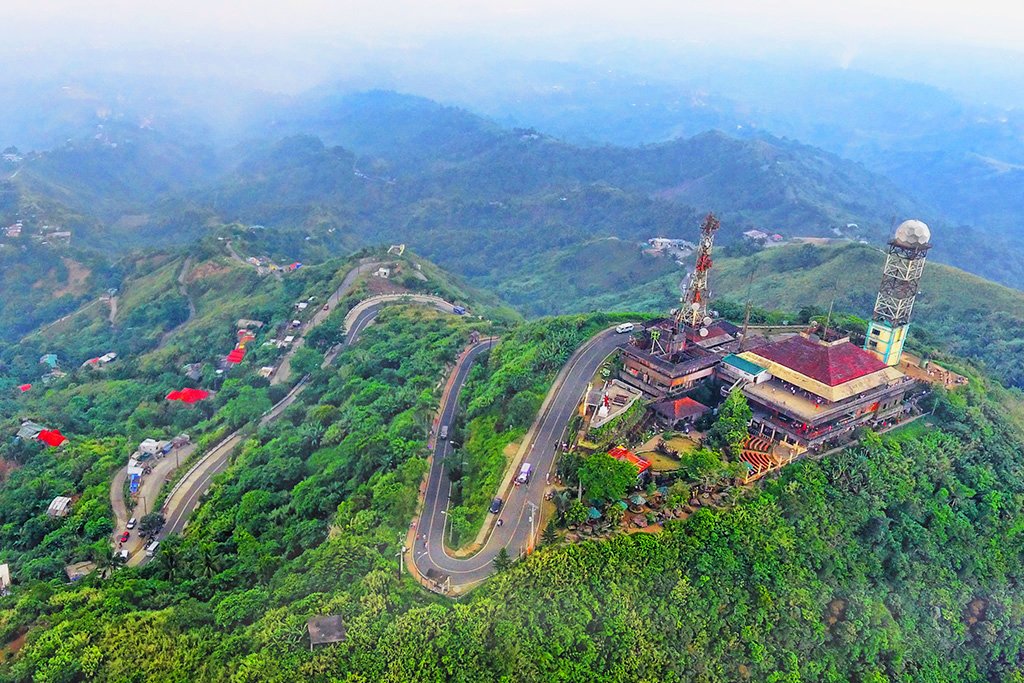 SOURCE: Tagaytay City
Spend the day on a hill in the Sky, overlooking the whole city, in this lovely Tagaytay City park. People's Park in the Sky, the city's highest point, offers stunning views of the Ta'al Volcano and Lake Ta'al.
This charming hilltop area has wooden footbridges, view gazeboes, a Roman-style amphitheater with benches following benches, and a bizarre life-size pineapple.
However, the most significant aspect is that the high altitude results in occasional cold weather, providing a welcome respite from the typical Filipino heat.
---
10. The Bathhouse at Qiwellness Living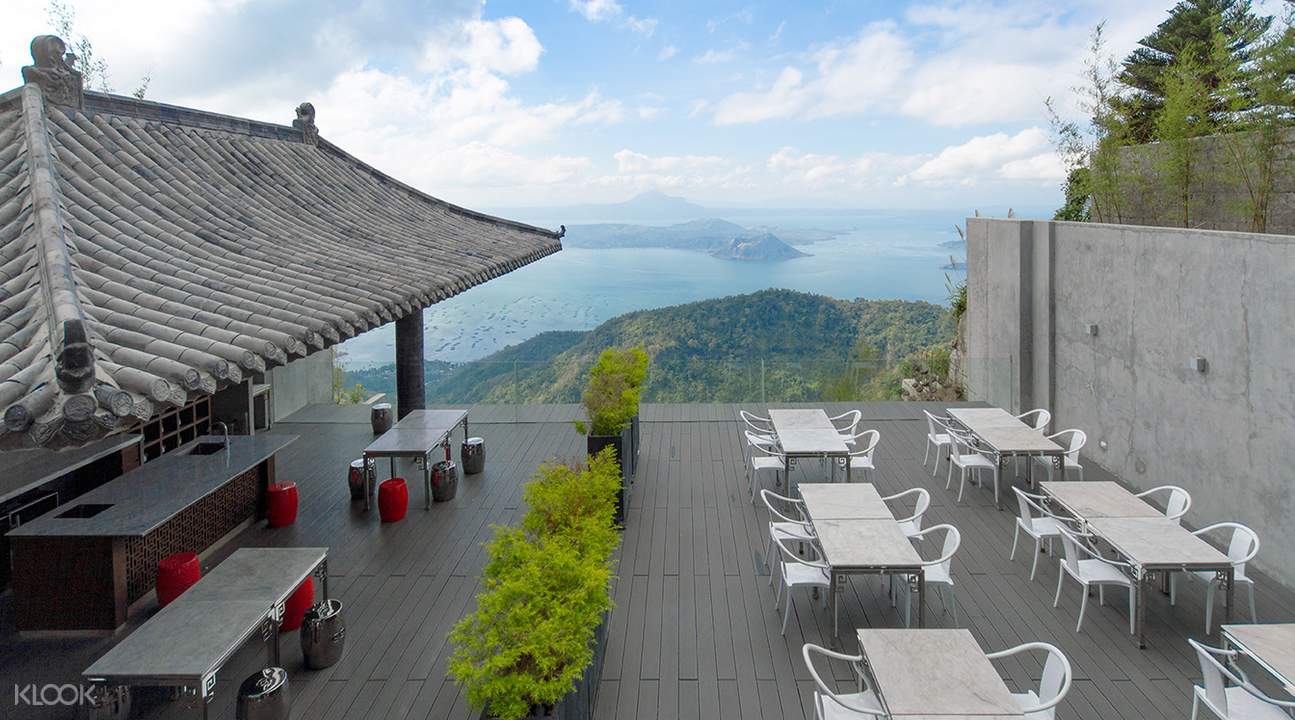 SOURCE: Klook
It doesn't get much more zen than this, believe us. Visualize relaxing in an outdoor hot tub while seeing the Ta'al volcano and Lake completely quiet and serenity. This center is a great location to reconnect with your spirit, relieve tension from your muscles, and reset your internal clock!
While dining on world-class cuisine, have a glass of wine while sitting under the brilliantly illuminated red pagoda or enjoy the wind on the open-air patio.
The Bathhouse at Qiwellness Living is a romantic, soothing, and one-of-a-kind experience.
---
11. Sonya's Secret Garden
SOURCE: Appetizing Adventure
Restaurant, B&B, Spa, Wedding Location… Sonya's Secret Garden is a one-stop-shop for all things Sonya. The location is beautiful. This is the finest spot to come for lunch in Tagaytay City, tucked away in a tropical garden with flowers all around and teakwood furniture that brings it all together.
You must try the 'Bread & Dips,' which combines Sonya's handmade sesame seed bread with a selection of tapenades such as bruschetta, basil pesto, and fresh green peppercorn in olive oil. New portions of pasta, salads, and gently prepared meats are also available. You may have endless freshly squeezed Dalandan juice and tarragon tea with your meal. It's like being in paradise.
---
12. Esquieres Travel Day Tours
SOURCE: TripAdvisor
Esquires Travel Day Tours in Tagaytay City will help you find any experience you're looking for, whether a day tour in Manila, a rainforest waterfall excursion, or an island-hopping trip off the coast.
These trips are ideal for single travelers or groups with just a few days to spare before heading to another location. Everything, including transportation, pick-up, guides, and meals, will be handled by this tour group. You have nothing to be concerned about other than having a good time and seeing the sights.
Local day excursions to multi-city weeklong itineraries are available.
---
13. Nurture Wellness Village
SOURCE: Agoda
Nature Wellness Village is a great location to stay if you want more than simply a comfortable bed and a place to put your coat. Everything they do is based on the belief that a healthy life is a better life.
This philosophy is evident in their restaurant, which elevates vegetarian and non-vegetarian cuisine to a gourmet level. It's palpable at their spa, which provides a variety of traditional Filipino massage techniques using stones, leaves, and oils. You can sense it in your body when you participate in their Detox (and weight-loss, if that's your thing) program, including organized, healthy food plans, acupuncture, steam baths, and more.
The grounds are lovely, the staff is kind, and the whole experience is ideal.
---
14. Ayala Malls Serin
SOURCE: Magna
Ayala Malls Serin is breathing fresh air compared to other malls, which are overpowering, congested, and gloomy. You won't feel like you're spending your day inside because of the open-air arrangement, including a central garden.
You may fill up on travel essentials, try on new clothes, and, of course, dine to your heart's delight on the three floors. You'll discover Japanese, Chinese, and Filipino cuisines, as well as ice cream.
This Tagaytay mall is also in an excellent position since it is close to numerous AirBnbs and hotels. Come in and have a look.
---
15. Twin Lakes Shopping Village 
SOURCE: Flickr
In keeping with Tagaytay's picturesque motif, Twin Lakes Shopping Village isn't what you'd anticipate from a shopping destination. This little market stands on a hill with a view of one of the most beautiful valleys you've ever seen.
There is more to explore here than simply coffee. It is known for having the most gorgeously placed Starbucks in the Philippines. There are many restaurants and pleasant stores to keep you occupied for at least a couple of hours. This is an ultra-peaceful spot to relax beneath the moon with minimal light pollution and look for shooting stars as the sun sets and the day fades into the night.