Are you aware that taking a holiday has many advantages? Believe it or not, it's more than pure relaxation. In addition to its incredible health impact, holidays are also a great way to reinforce your connection with your loved ones. If you are interested in taking advantage of these holiday benefits, here are the weekend getaway near Manila for family weekends!
Weekend Getaway Near Manila for Family: Resorts and Parks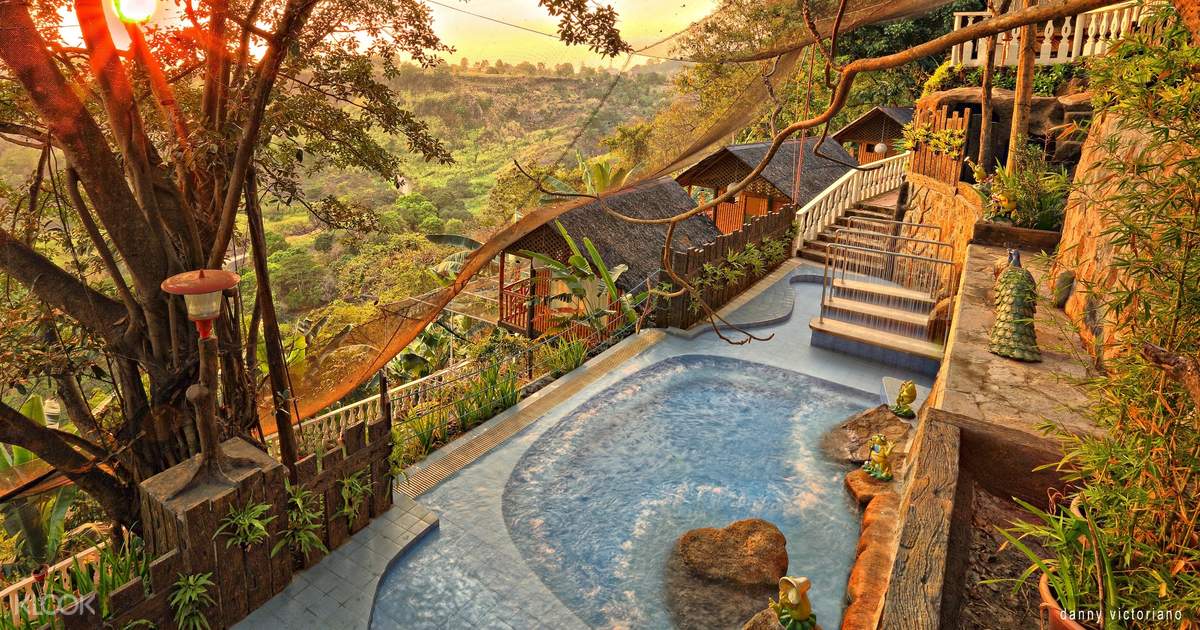 Here are some resorts and parks near Manila that you can check out for your next weekend getaway near Manila for family weekends!
1. Place Garden Suites of Luljetta
Luljetta's just two hours from Manila Metro. Luljetta's is the Philippines' first and only hanging garden spa. Luljetta 's Place Garden Suites in Antipolo provides everything you need for a relaxing weekend break. You can use their massages and spa services if you need to replenish your mind and soul. 
Once you have finished, you can go to one of the three infinity pools overlooking the Laguna De Bay and the Manila Skyline metro station. Services such as manicure and pedicure, sweet sweets, head and back massage, hand or foot reflections, chocolate scrub, etc. are also offered.
2. Aquascape Lake
One of the outstanding features of Aquascape is its floating cottages. Do you want to be isolated from the usual grind in town – from the routine work in the office to heavy road traffic? Why not seek to live off the grid for a while to recover from the pressures of your everyday lives? Aquascape Lake gives you the impression of isolation in its floating cabins. 
You can also ask to put your cottage in the middle of the lake if you want the full experience! However, don't worry that you can still rest comfortably with their fully furnished rooms with TV, beds, a small kitchen, and even a bathroom.
3. San Rafael River Adventure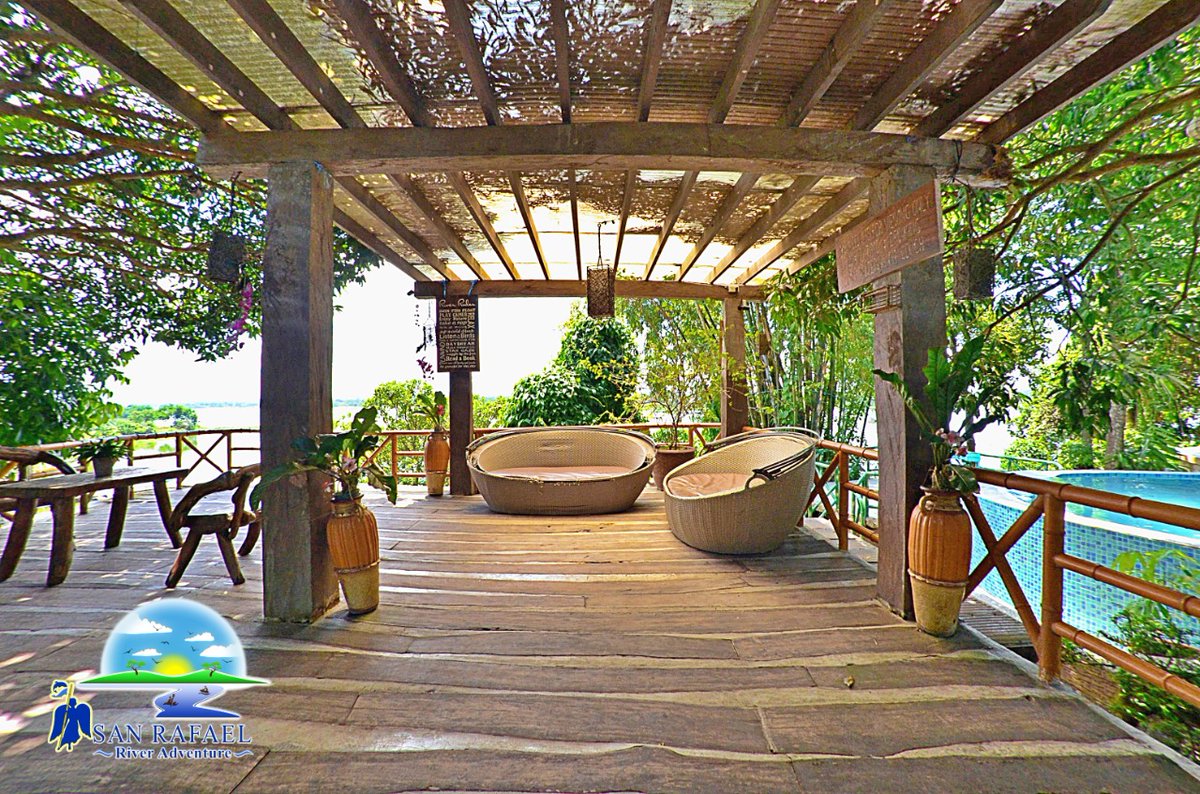 San Rafael River Adventure offers you a "glamp" or modern camping experience. Explore nature in style with the chic glass treehouse of San Rafael River Adventure. This resort is a must-try if your family wants to try camping in style. 
Luscious trees and bushes surround the glass tree house, and from the porch of the glasshouses, you can get a picturesque view of the Angat River. The resort also offers infinity pools and hot tubs. You 're not going to be hungry because they deliver inexpensive and tasty meals at the entrance.
4. Camp Netanya
Camp Netanya is a local option for Santorini and does not have to book a flight to Greece. Do you always want to fly for your holidays to Santorini, Greece? Okay, because we have an alternative to Batangas, you don't have to fly all over the world to visit Santorini. Camp Netanya offers the atmosphere of Santorini with its blue and white decor and furniture. 
Even the buildings are very close to those seen in Greece! Along with the overall appearance of the resort, the fantastic infinity pool with its loved ones is one of its best features. There are various activities for the adventurous members of your family, such as trekking and water rides.
5. Fabian Point – Baras, Rizal
Punta de Fabian Resort is another affordable weekend trip near Manila. It has a big swimming pool with a view of Laguna de Bay. It is located on the Rizal hill, so expect cold temperatures when the sunsets. What we love about is that you don't have to pay a separate fee for your admission and cottage.
6. Enchanted Kingdom – Sta. Rosa, Laguna
The best of our memories of childhood are the trips in the Enchanted Kingdom. Enable it, or you're not even an adult, you still want to come and try rides again. You can also buy a ticket for the unlimited use of the whole park tour, but it was impossible to try them all because of an enormous number of people on the weekend.
7. Cavinti Mountain Lake Resort, Laguna
Mountain Lake Resort is the team building site in the vicinity of Manila. They have accommodation, like hotels, boathouses, tents, and kubos, if you plan on staying overnight. They also offer affordable packages of housing, events, and food for businesses.
8. Mataas na Kahoy, Batangas, La Virginia Hotel
La Virginia Resort is a 10.2-hectare resort in Mataas na Kahoy, Batangas offering fun and enjoyable experience for the entire family and team. You can visit this one of the 25 wonders of the world in less than 3 hours from Manila!
9. Green Point Resort – Lobo, Batangas
Punta Verde Resort is perfect for a family trip near Manila this summer, especially. We assure you that from the infinity of the pool and its villas, you will be amazed.
10. Water Park Aquaria – Calatagan, Batangas
Aquaria Water Park is a Batangas beach and pool getaway! To enjoy its amenities, it is not necessary to book a room. But if you like, Crusoe Cabins have garden and beach view space. Aside from the baths, they also sell hopping on the island to a nearby sandbar.
You don't even have to book a plane ticket to satisfy your need for walking. In reality, you don't have to drive far enough from the area! So we have mentioned all the good places you can get away if you ever need a fast weekend getaway.
Weekend Getaway Near Manila for Family: Places
Here are the best destinations for a weekend getaway near Manila for the family!
1. Batangas
Batangas comes first to mind while looking for a weekend trip near Manila. From beaches and walks to food trips, Batangas also has everything else. You can already enjoy the beaches of white sand without landing!
2. Tagaytay
Tagaytay is one of the most popular holiday destinations in the vicinity of Manila, whether or not it is summer. It is essentially one of the coldest places in the Philippines that offers its tourists fresh clean air and an enjoyable climate.
Some of Tagaytay's best-known activities include walking to the Taal Volcano's crater, dining at a restaurant overlooking the Taal Volcano, and searching for the finest bull in the region.
3. Laguna
Not all paradise consists of pristine white beaches. It's sometimes dressed like forests, hot springs, and falls. And Laguna is ample evidence of this. Despite the fact that it is not the ideal summer destination, much of Laguna's beauty is the untouched rainforests and wild waterfalls of the province.
Other than these, its towns retain their historic façade and the Rizal Shrine, the replica of the original two-story house where Jose Rizal was born.
Many people, especially in the neighboring provinces, visit Laguna because it is one of the best cheap destinations near Manila.
4. Rizal
Destinations like Tagaytay or Batangas usually come to mind for quick weekend trips outside the city. Rizal is also often overlooked near Manila. Yet this undervalued destination has gems worth finding and may even surprise you.
Rizal is rich in natural wonders like mountains, stunning waterfalls and rivers, and museums of art. And the good thing here is that Rizal can easily be reached from Manila by public transport. Many busses and transporters are going in and out of the province.
5. Zambales
Zambales is another destination that travelers, in particular solo backpackers, visit most frequently. Also, Zambales is one of the best destinations for an overnight stay in the vicinity of Manila.
Because the province is just a three to four-hour ride from the metro, you still feel you dropped off the grid for the weekend. The best things to do in Zambales are parties, beach camping, and hopping on the island.
You can enjoy the beautiful views of Anawangin Cove or have the beach at the unpopulated Capones Island. And don't worry about the budget because it is one of the cheapest getaways close to Manila.
6. Pangasinan
Pangasinan is known mostly for its hundred islands and its Bangus (milkfish). But in this coastal province, there is much more to see.
If you are afraid to move north because of budget constraints, don't worry because, in Pangasinan, you can go for a weekend in Manila's vicinityManila without breaking the bank with your entire family.
Hundred Islands, beautiful beaches, and natural places are blessed in the province. There are many spots suitable for leisure, from swimming and trekking to sightseeing.
7. Quezon
If you are searching for a relaxing or pleasant holiday near Manila you will be able to travel to the province of Quezon because it has all you are searching for – from beautiful white beaches and delicious food to vibrant and lively festivals. And don't forget their wonderful Habhab Pancit! And don't forget them!
8. The LU
The main reason for any visit to La Union is surfing. Surfing schools and instructors border the beach if you are new to this and want to know how to surf.
But La Union is more than a surfing city. It provides a wide variety of food, activities, and scenic areas. In La Union, you will definitely experience its vibrant colors, youthful energy, and laid-back atmosphere.
9. Bataan
The first thing that comes to mind when someone says Bataan is how it played a significant role during World War II because of the Bataan Death March and the Battle of Bataan.
Although the province is rich in history, it is also the perfect place to escape Manila's chaos. If you like to go back in time and see what Old Manila is like, visit Las Casas Filipinas de Acuzar, go for a shopping trip on the island, or visit the beach in Five Fingers Cove if you just want to spend a chill holiday.
Final Words
The Philippines is not just a tourist destination for its beautiful beaches and islands. It marries all the things a traveler wants: culture, history, natural landscape, and, above all, people. You won't run out of ideas, and you won't be tired of looking at something new.
Regardless of how long you go, the Philippines has a lot to offer, and you don't have to spend that much. Where you can go and how to live like a local, it'll feel like home.
Don't think twice about whether it's worth booking a trip to the Philippines. Indeed, it is worth it, and you'll probably be looking forward to your next trip again.